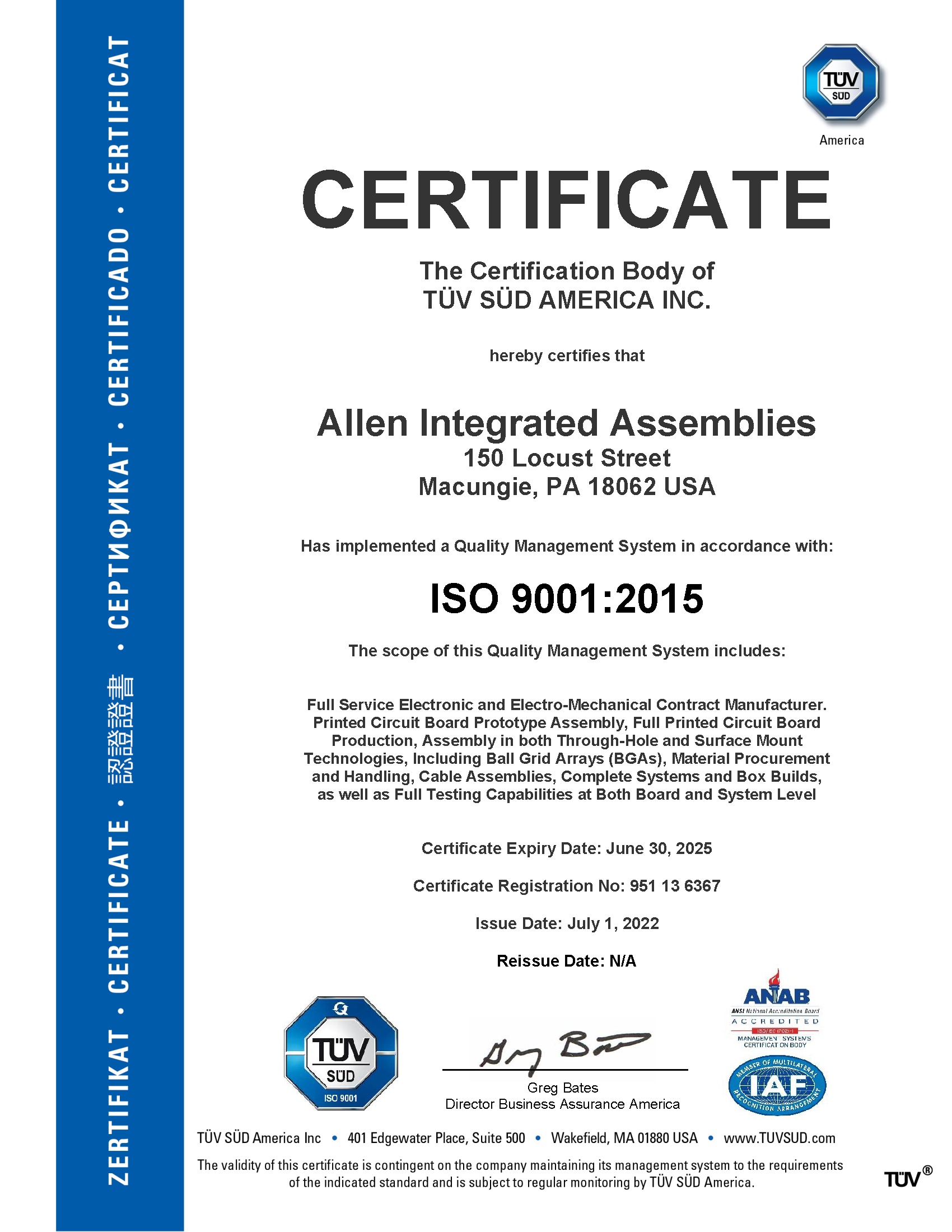 We are now ISO 9001:2015 certified
Allen Integrated Assemblies is committed to the continuous improvement of our capabilities to meet or exceed our customers' expectations of products and services.
Efforts to improve our overall quality will be driven by:
The engagement and commitment of every employee.
Improved systems, processes, procedures and equipment in all functional areas.
The ongoing desire to understand our customers' needs and to exceed their expectations.
Continuous training of employees.
Allen Integrated Assemblies (AIA)  maintains IPC  (Interconnecting and Packaging Electronic Circuits) Class 2 & Class 3 workmanship standards throughout our processes.
All our operators receive IPC training and re-certification every two years. 
 AIA supports the basic aim of REACH (Registration, Evaluation, Authorization and Restriction of Chemicals Regulation, EC 1907/2006) in improving the protection of human health and environment through the better and earlier identification of intrinsic properties of chemical substances. AIA meets all applicable REACH requirements and is committed to provide our customers with information about substances in its products as required.
Equipment
MYDATA MY200sx Surface Mount Machine Pick and Place
MYDATA MY100 Surface Mount Machine Pick and Place
MYDATA MY12 Pick and Place Machine
DEK Horizon 03iX SMT Screen Printer
DEK Horizon 8 SMT Screen Printer
DEK 248 SMT Screen Printer
Vitronics Soltec Deltawave 6622C Lead Free Capable Wave Solder Machine
Heller 1700W 6 Zone Convection Reflow Oven
Mirtec MV-3L Desk Top AOI (Automated Optical Inspection) Machine
Mirtec MV-2HTL Series Bench-Top AOI (Automated Optical Inspection) Machines
Vitronics Soltec XPM2-series Lead Free Ready Reflow System
Electrovert Econo Pack II SMT Wave Solder Machine with Finger Conveyor
Phoenix X-ray PCBA Inspector High Resolution Microfocus X-ray System
Amistar C1500 Semi-Automatic Dip Inserter
Amistar C1750 Semi-Automatic Dip Inserter
Amistar 6448 Full-Automatic Axial Lead Inserter
Amistar A1500 Semi-Automatic Lead Inserter
Universal Dip Inserter
Contact Systems CS400C Component Locator with Cut and Clinch (3)
Crest Ultrasonic Vapor Degreaser with Auto Arm
Amistar AL300 Loader (3)
Amistar AL100 Axial Lead Loader
Heller Radial Lead Former
Heller Transistor Former
OK Machine and Tool Semi-Automatic Wire Wrap Systems
EFD 1000 XL Dispenser
GPD CF8 Component Former
GPD CF9 Component Former
Pace PCR Rework Center
Boesch Coil Winders
Gorman Coil Winder
Amp Cable Tools
Static Control System throughout Assembly and Test Area