Proven Experience
We offer
full service
manufacturing
capabilities,
which include:
Complete turnkey manufacturing
Surface mount and through-hole technology
Prototype assembly
BGA assembly and X-raying services
Printed circuit board assembly
Electro-mechanical assembly
Leaded and lead-free processing
Cable assemblies
Complete system assembly and box builds
X-ray inspection service
Full testing capability at both board level and system level
Logistics
Material procurement
Distribution
Customer training
We Offer a Full Range
of Services
Allen Integrated Assemblies, (AIA), is a full service contract manufacturer, located in Macungie, PA, specializing in Printed Circuit Board and Electro-mechanical assembly. We have been in business since 1989.
We offer the full line of services including turn-key manufacturing, SMT, BGA, PART-ON-PART & Through-hole technologies, X-ray and AOI inspection, Lead and Lead-Free processing, In-circuit and functional testing, and complete box builds and electro-mechanical assembly.
PCB Electronic Assembly 
Prototyping
Full Production Quantities
Surface Mount/BGA/BTC Technologies
Through-hole Assembly
Mechanical Assembly 
Complete Box Builds
Cable Assemblies/Cable Harnesses
Mechanical Assembly
Sheet Metal Fabrication
Test Capability
Functional Testing
In-circuit Testing
Final Product Testing
Cable Scan Testing
Logistics
Full Turnkey Manufacturing
Supply Chain Management
Inventory Programs
Packaging/Shipping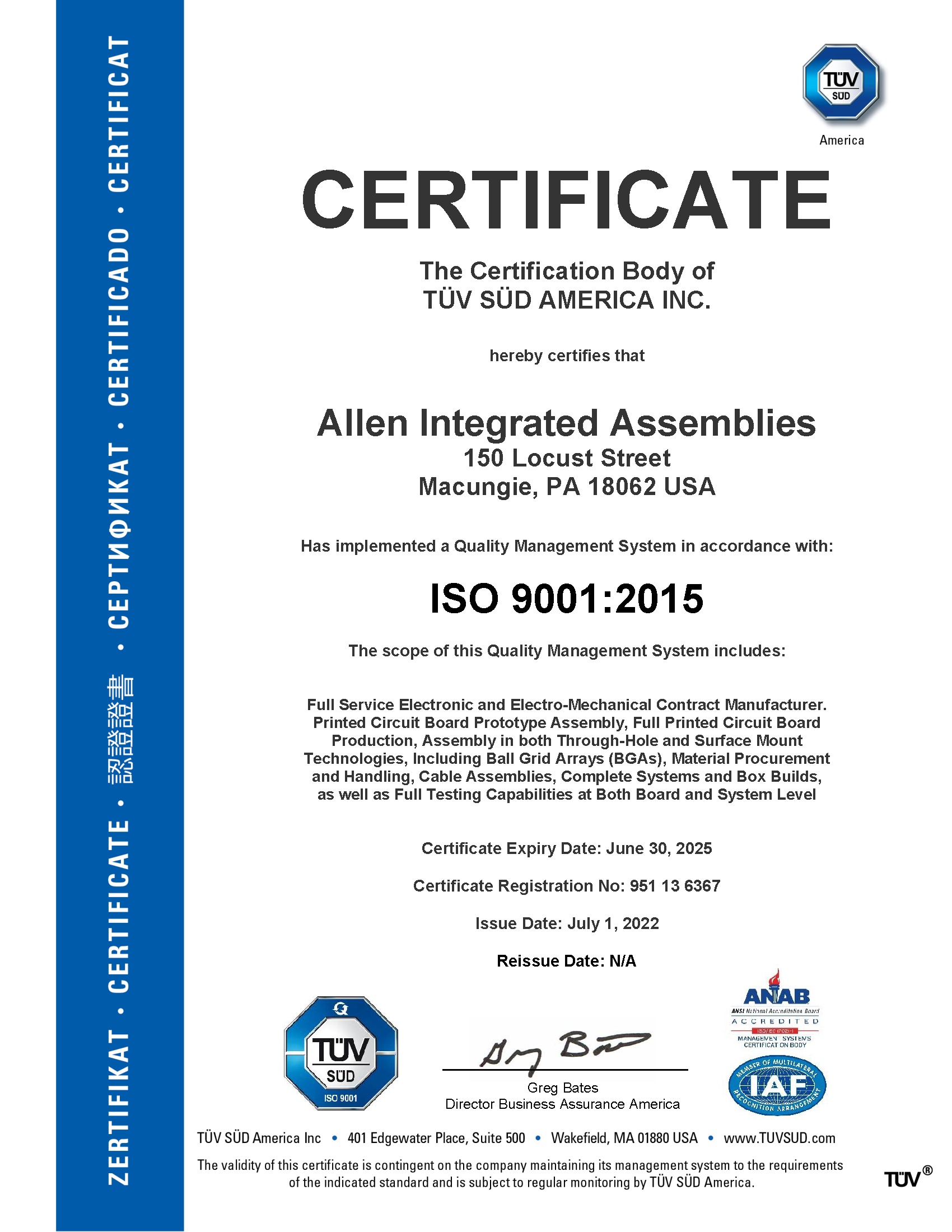 We are ISO certified
Allen Integrated Assemblies is committed to the continuous improvement of our capabilities to meet or exceed our customers' expectations of products and services.
Efforts to improve our overall quality will be driven by:
The engagement and commitment of every employee.
Improved systems, processes, procedures and equipment in all functional areas.
The ongoing desire to understand our customers' needs and to exceed their expectations.
Continuous training of employees.